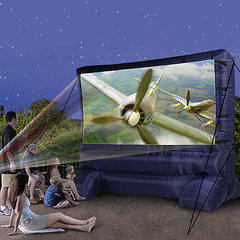 12ft Movie Screen with projector
The movie screen rental comes with everything you need to have a great time in your own backyard. We supply the inflatable movie screen, the projecter, a dvd or blu ray player and the sound system.
We do not suggest renting this equipment during the day because you will not be able to see the screen.
If you have kids that love to video games you can even connect your gaming system to our equipment for an extreme gaming session.
** We will monitor the weather all week leading up to your rental with this equipment. If there is more than a 15% chance of rain we may cancel the reservation. We will call to cancel or reschedule.